On October 26, 2022, Grimaildi Euromed, a subsidiary of Grimaldi Group, signed 5+5 units of 9000 eu PCTC Shipbuilding Contract with China Merchants Heavy Industry (Jiangsu) Co., Ltd. The relevant parties participated in the signing ceremony from different places in China and Italy on Line.
上海交大LNG中心研习发证:LNG加注及LNG设备和材料国产化研习通知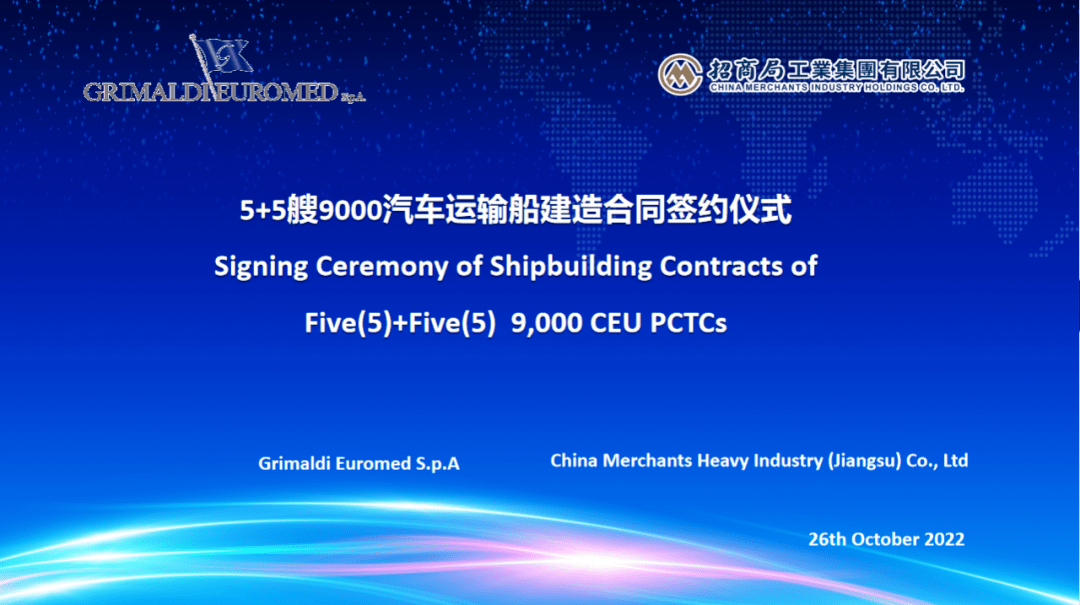 Emanuele Grimaldi, Joint Managing Director of Grimaildi Group and Chairman of Grimaildi Euromed, and Hu Xianfu, General Manager of China Merchants Industry Holdings (CMI) attended the ceremony and delivered speeches; Diego Pacella, Joint Managing Director of Grimaildi Group and Managing Director of Grimaildi Euromed, Wu Sichuan, Deputy General Manager of CMI, and Mei Zhonghua, General Manager of China Merchants Heavy Industry (Jiangsu) Co., Ltd. ( "CMI Haimen Base") attended the ceremony.
CMI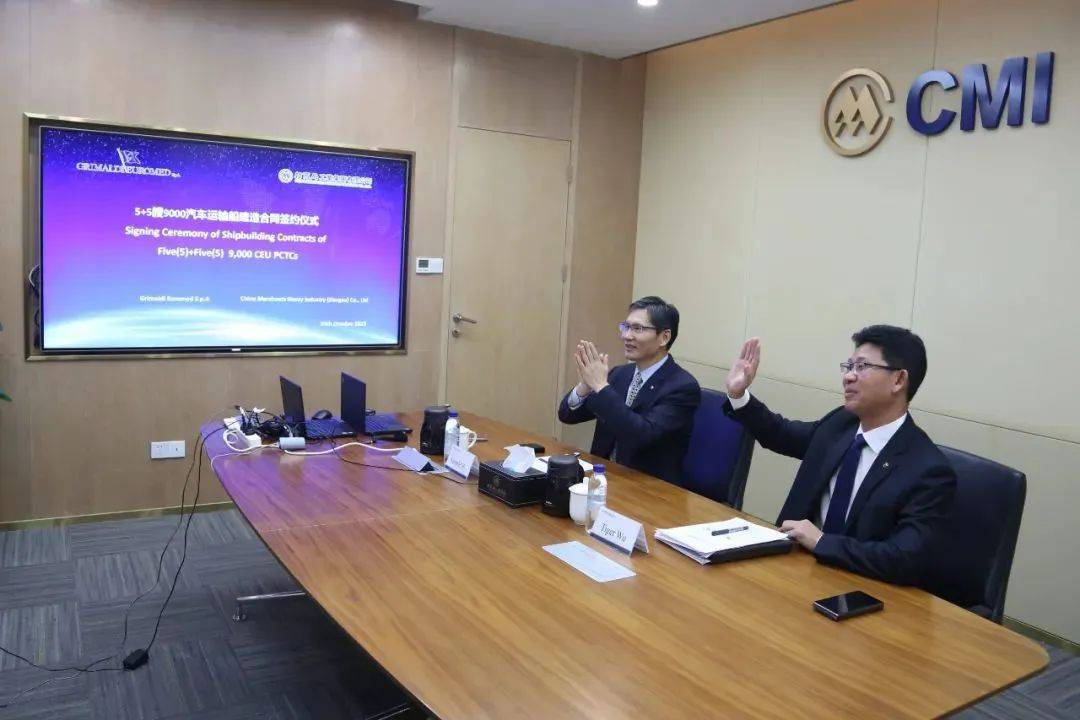 Hu Xianfu thanked Grimaldi Group for the trust and support to CMI. He pointed out that Grimaldi Group has successfully taken delivery a series of ro-ro ships in Nanjing Jinling and Weihai Jinling. The project signed this time will be built in Haimen Base, which is a continuation of the good cooperation between the two sides. CMI will fully make use of its resources, deploy its best technical and production teams to deliver high-quality ships for Grimaildi Group on schedule, and look forward to further and wider cooperation between the two sides.
Grimaildi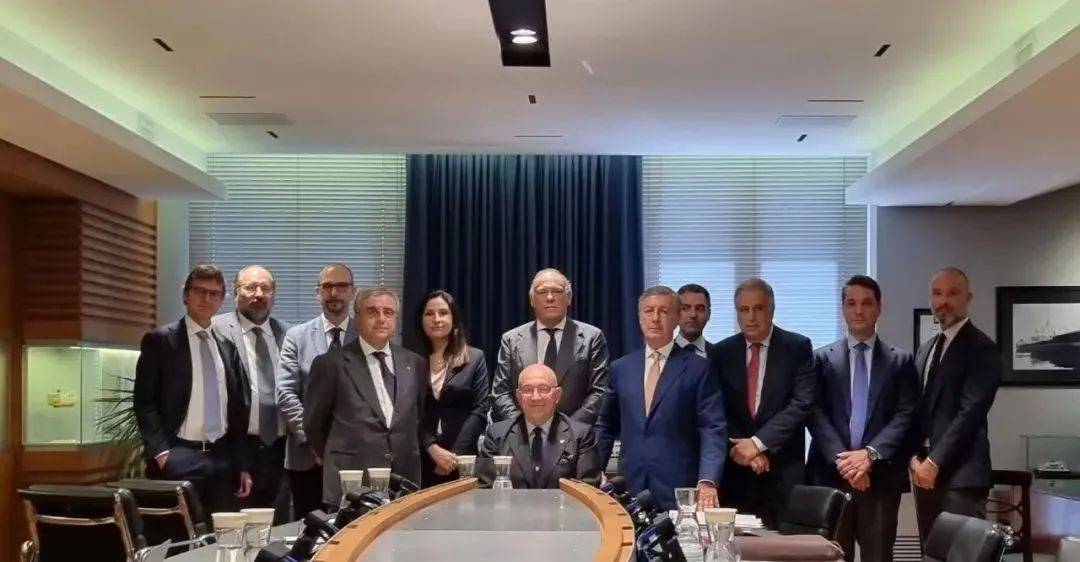 Emanuele Grimaldi reviewed the history of long-term cooperation between the two sides. He said that Grimaldi Group has been committed to sustainable development for a long time, and the business concepts of both sides are highly consistent. The new project signed this time will adopt a number of innovative applications of green technology and The teams of both parties will face certain technical challenges. We hope that both parties can work closely together with passion to win the challenges. He firmly believed that with the joint efforts and deep cooperation of the two sides, Grimaildi Group and CMI can jointly grow to be pioneers on the road of green revolution.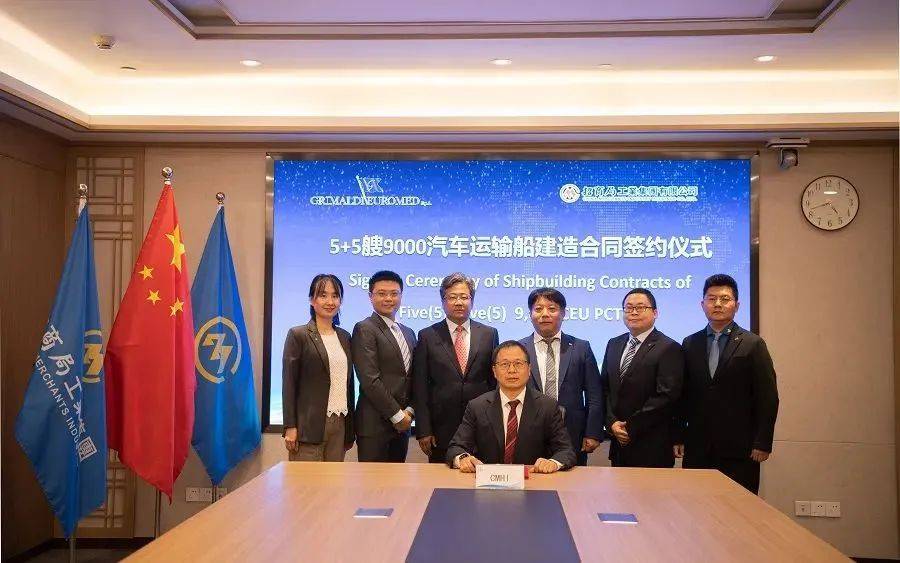 During the ceremony, Emanuele Grimaldi and Mei Zhonghua signed the shipbuilding contract with the witness of all parties.
Senior executives and project related personnel of Grimaildi Euromed; Relevant personnel of CMI Haimen Base, China Merchants Cruise Research Institute, China Merchants Jinling Shipbuilding (Weihai) Co., Ltd. and representatives of the brokerage company also attended the ceremony.
延伸阅读


Grimaldi Group is a private Italian shipowner company owned by the Grimaldi family. Headquartered in Naples, Italy. Founded by its founder Guido Grimaldi in 1947, focusing on shipping business, Grimaldi Group is one of the largest and most comprehensive multinational logistics groups in the world, covering shipping, port, logistics and other businesses. It has offices in 25 countries around the world, and has five major companies, including Grimaldi Lines, ACL, MMS, Minoan Lines and Finnlines.
Grimaldi Group has more than 120 ships, providing sea transport services for ro-ro cargo and containers between Northern Europe, Mediterranean, Baltic Sea, West Africa, North and South America, as well as passenger transport services in Mediterranean and Baltic Sea.