​Prof. Gu will host a training on LNG bunkering in Shanghai
The upcoming 4th LNG-fueled Ship & LNG Technology Shanghai Summit 2021 on Oct.26-27, 2021 is pleased to annouce that Professor Gu Anzhong, Director of the LNG Center of Shanghai Jiao Tong University, will host a training on LNG bunkering development during the captioned event in Shanghai on Oct. 27,2021.
上海交通大学LNG中心发证培训通知-LNG加注技术发展和规范符合培训
日程来了,第四届2021年LNG动力船和LNG技术装备上海峰会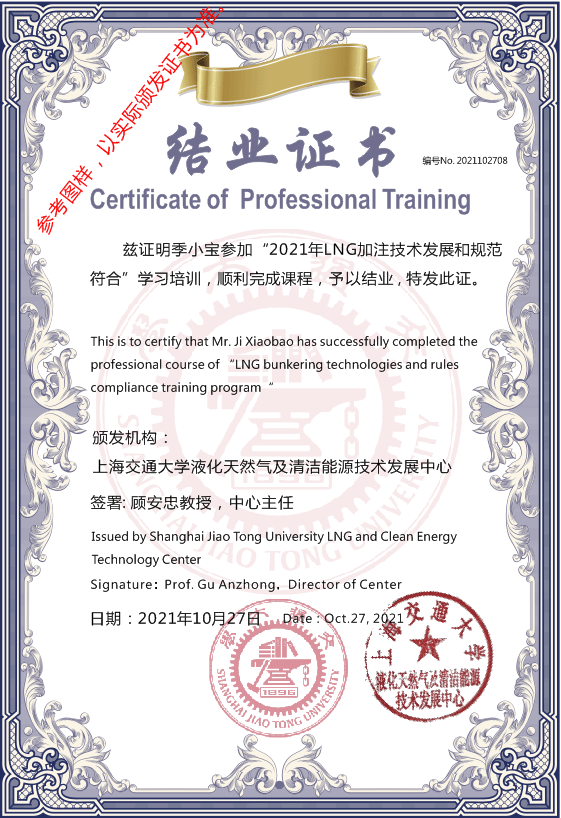 Prof. Gu will lead a team consisting of Professor Lin Wensheng of Shanghai Jiaotong University, Mr.Zhang Rong, Manager of CNOOC Energy Development LNG Shipping Company and other experts to perform a full day training. And he will issue the training certificates for the attendence both in English and Chinese as the certificate samples as above.
The event has been attracting ship owners, builders, suppliers, operators, designers,managers, investors, officials,class providers and others to attend, which will be orgainzed again by Seahow & International Ship & Offshore Media China.
For more information about the event, please visit:
Agenda v2-4th LNG-fueled Ship & LNG Shanghai Summit 2021
1) Agenda v2-4th LNG-fueled Ship & LNG Shanghai Summit 2021
http://www.ishipoffshore.com/html/19/2021-09-05/13796.htm
2) 4th LNG-fueled Ship & LNG Technology Shanghai Summit 2021
http://www.ishipoffshore.com/html/19/2021-08-20/13658.htm
3) The summary with pictures for the past events as the link below:
http://www.ishipoffshore.com/html/1/2020-09-23/11676.htm