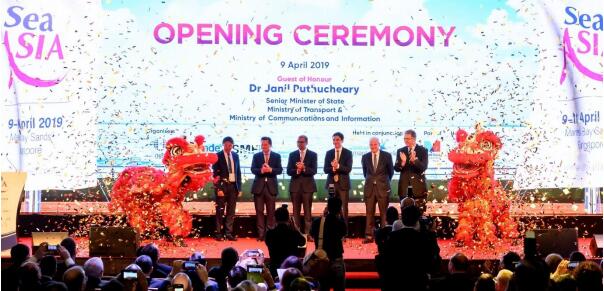 Caption (left to right): Mr Niam Chiang Meng, Chairman of Maritime and Port Authority of
Singapore, Mr Charlie McCurdy, CEO of Informa Markets, Dr Janil Puthucheary, Senior
Minister of State, Ministry of Transport and Ministry of Communications and Information, Mr
Andreas Sohmen-Pao, Chairman of Singapore Maritime Foundation, Mr Chris Hayman,
Chairman of Seatrade, Informa Markets, and Mr Michael Duck, Executive Vice President of
Global maritime leaders gathered at today's Opening Ceremony of Sea Asia
2019, the 7
th biennial conference and exhibition organised by UBM (Seatrade)
and Singapore Maritime Foundation, as part of Singapore Maritime Week
Marking the beginning of the three-day maritime event, the Opening
Ceremony was attended by Guest of Honour, Dr Janil Puthucheary, Senior
Minister of State, Ministry of Transport and Ministry of Communications and
Information, Mr Niam Chiang Meng, Chairman of Maritime and Port Authority
of Singapore, Mr Andreas Sohmen-Pao, Chairman of Singapore Maritime
Foundation, and Mr Chris Hayman, Chairman of Seatrade, Informa Markets.
In his opening remarks at the ceremony, Mr Sohmen-Pao, spoke about the
relevance of Sea Asia as a platform for maritime leaders to share their
expertise and innovations, as well as the role Singapore plays to facilitate the
exchange of ideas around latest trends and challenges in the industry, as a
leading maritime centre with a supportive and responsive government.
In his address, Senior Minister of State, Dr Puthucheary, focused on the
importance of the maritime industry which continues to carry 90 per cent of
global trade today despite facing challenges from players such as Alibaba
and Amazon, tighter environmental regulations and increasing competition
for talent. He spoke of the opportunities presented by digital connectivity,
encouraged by the development of the electronic Bill of Lading (eBL) built
under Singapore's TradeTrust framework, cleaner shipping and the need for
a highly-skilled workforce to future proof the industry for the long term.
This sentiment was echoed by Mr Hayman, who spoke of the platform Sea
Asia brings to industry players, to collaborate and address the opportunities
as well as challenges posed by digitisation, the global economic outlook and
Mr Hayman added that the return of the highly successful Sea Asia
Parliamentary Debate on the second day of the conference on 10 April will
see global leaders debating the motion: 'This House believes that too much
is expected of the shipping industry on environmental matters'.
Across the scheduled three sessions on the first day of the conference,
attendees will hear from industry experts on the key issues facing the
industry, the future of the maritime workforce and the impact of the global
economic environment on industry dynamics and competitive landscape.
The popularity of Sea Asia as a leading maritime industry conference and
exhibition continues to grow. This year, the event features more than 400
exhibiting companies over a record 13 national pavilions (up from 10
pavilions in 2017), with the presence of new countries: Oman, Poland and
Turkey. A highlight of this year's event is the Innovation Arena, which
showcases eight start-up companies who are supporting new thinking and
innovation across the industry.
The opening ceremony concluded with Dr Puthucheary touring the highlights
of the exhibition, which began at Keppel Offshore and Marine, PSA Singapore
Terminals, Jurong Port, Sembcorp Marine and wrapping up at the Innovation
Other industry updates may interest you:
Invitation to Marine Scrubber Industry Shanghai Summit 2019

http://www.ishipoffshore.com/html/11/2019-04-02/9192.htm
​The 5th Cruise/Passenger Ships Shanghai Int'l Forum 2019
http://www.ishipoffshore.com/html/11/2019-02-12/8860.htm
The 2nd Marine Scrubber & BWMS Shanghai Forum 2019
http://www.ishipoffshore.com/html/11/2019-02-12/8858.htm
The 2nd Shipping Outlook Shanghai Forum 2019
http://www.ishipoffshore.com/html/1/2019-02-18/8921.htm
http://www.ishipoffshore.com/html/11/2019-03-27/9153.htm