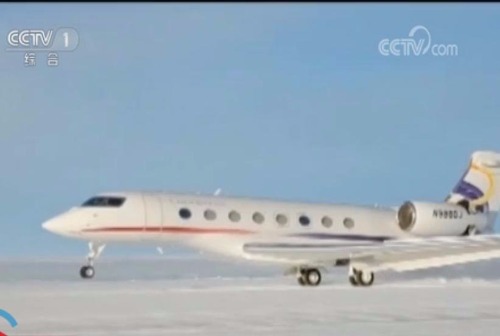 In an unprecedented trip, a Chinese commercial aircraft landed on Antarctica on Dec 16, marking the first tour trip to the South Pole organized by the country, according to a report from people.cn.
The aircraft, a Hainan Airlines flight with 22 Chinese passengers onboard, arrived at a Antarctic airport after a more than 20-hour journey starting from Hong Kong.
The tourist group will go on to fly across the coldest, driest and the most desolate continent in the world and arrive at the South Pole after a flight of 5 to 6 hours.
It is estimated 30,000 to 40,000 people travel to the Antarctic annually, with Chinese tourists making up the second-largest group in that number.
But in the past, Chinese travelers had to use services from foreign tour agencies for an Antarctic trip, said an anonymous executive of Hainan Airlines onboard the flight.
The executive said the opening of the flight is the result of 10 years of investigation and inspection efforts.
The launching of a Chinese commercial flight to Antarctica will arouse the interest of Chinese tourists, Wang Wen, a professor from Renmin University of China, was quoted as saying by huanqiu.com.
He said China's participation in the governance of the Antarctic will boost cooperation on scientific research, environmental protection and fulfillment of global treaties in the area.