The Telegraph, the well-known British newspaper, has included Laos in its list of 20 places to visit in 2023 after most countries reopened their borders to international travellers. With the removal of pandemic-related restrictions, there are pretty much no limits to travel to different places this year as almost the entire world has reopened for business and travel.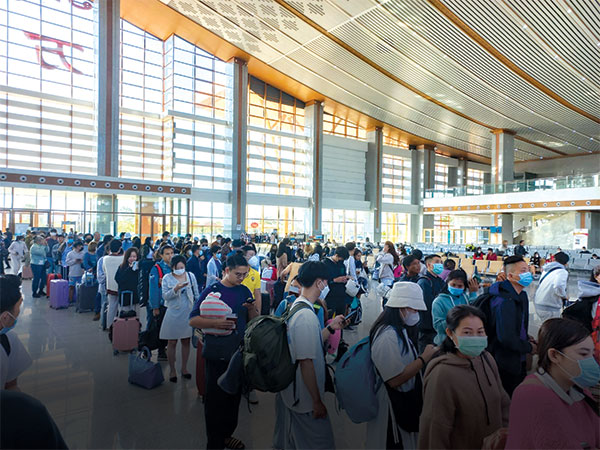 Many tourists flock to Vientiane train station to explore northern Laos.   –Photo Tom
The Telegraph's travel experts' curated collection of 20 top destinations to visit this year has a few Asian countries, including Japan and Sri Lanka, while Laos is the only country from Southeast Asian to feature in the list.
The Telegraph lauded the breath-taking views and improved accessibility to various destinations in Laos, thanks to the Laos-China Railway that began operations in 2021.
The newspaper said it is convenient to travel on the Laos-China Railway: "It slices through the northern mountains from capital Vientiane, curving along the north bank of the Mekong River to Vangvieng, where the sugarloaf mountains tower over the ragtag settlement on the banks of the Xong River. From there, pinch yourself."
The Telegraph added: "A journey that takes four to five hours by road on bum-numbing buses now reaches the fabled UNESCO-protected temple town of Luang Prabang in 55 minutes. Further north is Muang Xay, the alighting point for sky-high ethnic minority villages, waterfalls, and a riverfront retreat in the jungle."
Laos has been ranked by several media organisations as one of the world's top travel destinations for 2023.
Just recently, US-based multinational cable news channel CNN included Laos in its list of 23 best destinations to visit in 2023, further raising the country's profile in the global tourism landscape.
In addition, National Geographic, one of the most widely read and respected magazines in the world, selected Laos among 25 breathtaking places one should visit in 2023. Laos was the only Asean country featured in the magazine's "annual list of superlative destinations".
In 2019 and before the Covid-19 pandemic, international tourist arrivals to Laos increased by 14.4 percent, reaching 4.79 million. Revenue from international tourists was estimated at US$934 million or close to 5 percent of the GDP. Around 54,000 people, or about 1.4 percent of the total workforce, have been employed by the tourism and hospitality sector and more than 60 percent of them were women.
Tourism experts believed the tourism industry in Laos is expected to revive this year after being hit hard by the Covid-19 pandemic over the past two years.
With China about to reopen to the outside world, experts believe many thousands of Chinese tourists will visit Laos through the Laos-China Railway.
By Somsack Pongkhao ,Viantiane times
(Latest Update January 6, 2023)